---
A Step By Step Guide To Sell Frequent Flyer Points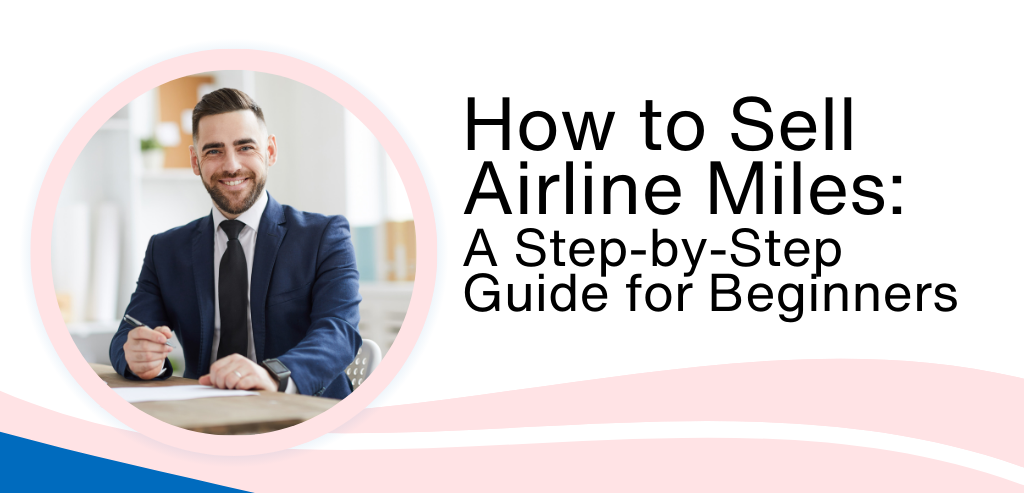 Are you someone who has accumulated a significant number of airline miles or credit card points that you have no immediate plans to use? Perhaps you are concerned about these rewards expiring and going to waste. If so, you may want to consider selling them for cash. By selling your airline miles, you can turn those unused rewards into profit and avoid worrying about expiration dates.
Frequent flyer points are the hot commodity in the world of travel and credit cards. So much is possible when you have a few hundred thousand airline miles in your account. As a frequent flyer member, you get excess to business class lounges, free upgrades, reward seats and much more. Travel credit cards have made collecting airline miles a breeze. Despite the ease of earning airline miles, sometimes it's using them that is the hardest part. According to an article on ABC News, 25% of Americans let their frequent flyer points go unused. Instead of holding on to them and letting them expire why not sell frequent flyer points instead?
1. Why Loyalty Members Don't Use Their Frequent Flyer Points
One of the most common reasons why frequent flyer members don't use their points is because they forget about them. If they haven't forgotten they have airline miles, they forget that the expiration date is drawing near. Once the expiration date draws near, they're lost and have no idea how to solve the rut they're in. Another reason for not using frequent flyer points is that some loyalty members or cardholders may not be interested in the perks.
2. Frequent Flyer Points Have Value
If you fall into the category of the people mentioned above you need to realize it's okay not to redeem your miles. However, you also need to be aware of the fact that frequent flyer points have value. Frequent flyers are more than ready to buy them from airlines or mileage brokers. Airlines and mileage brokers sell these points at different prices. They wouldn't be doing all of this if airline miles didn't have value. Just imagine an entire grey market was created and has become a flourishing industry just because of how valuable airline miles here.
The industry we're referring to is selling and buying of airline miles by highly trained professionals also known as mileage brokers. They're more than ready to take your airline miles of your hands, and pay good money for them.
Read: This Is How Travelers Can Break Down The Ideal Travel Reward Card
3. How To Sell Frequent Flyer Points
The first step you need to take if you're unsure about the value of your miles is to get a free quote. Most mileage brokers offer free quotes to potential customers. You have the option of checking different quotes and picking the one that you think is offering the right price.
Once you've decided on the mileage broker, the next step is to make an account or register. People who are interested in selling their airline miles need to fill out an online form with their personal details. The personal details are protected under a strong privacy policy. Along with the details mention the loyalty program, a number of airline miles and expiration date.
A lot of mileage brokers verify miles before they buy them. Once the airline miles have been verified you'll be required to transfer your airline miles into a third party account. The payment is done within 24 hours via bank transfer or Paypal.
Why MileageSpot?
Mileage Spot is a trusted miles brokerage firm that can help you sell your airline miles or credit card points for top dollar. With years of experience and expertise in brokering miles on most major airlines, Mileage Spot ensures that you receive the best value for your miles. Our proprietary technology makes the process of selling miles and getting paid a breeze, all while keeping your information secure and confidential.

Here's a step-by-step guide for beginners on how to sell airline miles on Mileage Spot:

Visit our website, www.mileagespot.com, and click on the "Sell Miles" tab.
Enter the airline or credit card program from which you wish to sell miles.
Enter the number of miles you wish to sell and provide other details as requested.
Review the offer provided by Mileage Spot for your miles.
If you are satisfied with the offer, accept it, and Mileage Spot will take care of the rest.
You will receive payment on the same day the transaction is completed, giving you the cash you need when you need it.
Why Choose Mileage Spot to Sell Airline Miles?
At Mileage Spot, we pride ourselves on offering a simple, secure, and fast process to sell airline miles or credit card points. We accept a variety of credit card points and airline miles, and we offer competitive rates on over 20+ airline programs. Our 100% buyer protection ensures that your transaction is secure and that you receive payment quickly. Our excellent customer service team is available to answer any questions you may have throughout the process.

Furthermore, Mileage Spot has received over 300+ positive seller reviews, indicating our dedication to providing a smooth transaction and the best value in the marketplace.

In conclusion, selling your airline miles or credit card points can be an excellent way to turn unused rewards into cash. By choosing Mileage Spot, you can be assured of a simple, secure, and fast process to sell your miles for top dollar. So why wait? Contact us today to get started and turn your miles into money.